Tryptophan Half Marathon 10k/5k
| | |
| --- | --- |
| | Date: November 22, 2018 |
| | Time: Half: 7:30am | 10k: 7:45am | 5k: 8am |
| | Location: Fowler Park, 4110 Carolene Way, Cumming, GA 30040 |
| | |
| | |
@TotallyRunning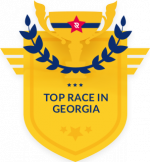 About the Race
The 7th annual Tryptophan Half Marathon has become a North Georgia tradition to begin your Thanksgiving Day festivities. Before digging into their Thanksgiving feast, runners will work up their appetite participating in one of the three distances: Half Marathon, 10K, or 5K. Race day is Thursday, November 22, 2018 and proceeds benefit Children's Healthcare of Atlanta.

Race is chip-timed, USTAF Certified,  and registration includes a finisher medal for all distances, FREE photography, long sleeve race tee, and flat course!!
The Tryptophan Half Marathon, 10K/5K will be on the Big Creek Greenway again this year! All distances will start and finish at Fowler Park, 4110 Carolene Way, Cumming, GA 30040, and participants will enjoy the beauty of the fall colors as they run/walk along the Big Creek Greenway. After beginning on the track, half marathon, 10k, and 5k runners will make their way onto the Big Creek Greenway for their respective distances before coming back to the track to cross the finish line. The Big Creek Greenway is a 12 foot wide concrete and boardwalk path that winds through woods along Big Creek and is a favorite route among north Georgia runners and walkers alike.
Participants are encouraged to sign up early – there is a limit of participants for all distances due to limited space on the Big Creek Greenway. Carpooling is also suggested as the parking lot at Fowler Park could fill up quickly. Those who register by 11/16 are guaranteed a race t-shirt.
 A Personal Note...
The Tryptophan Half Marathon 10k/5k was created in 2011 as a fundraiser for Children's Healthcare of Atlanta (CHOA). I'd approached CHOA about the idea after my personal experience as a parent of a child that spent 18 days at CHOA.  I can appreciate the care and support that was given to us. Thankfully, our stay at Children's was brief compared to countless others. Seeing the other children and parents roaming the halls of the hospital broke my heart into pieces each day. No parent wants to be there; no kid should be sick. I was comforted knowing that the wonderful staff and kind volunteers of CHOA do everything in their power to minimize the burden of sickness.
My son healed and he was able to return home acting like his typical three year old self. As I reflect back on our stay, I remember the many wonderful things about CHOA that helped to ease my mind while we were there. Things like, rolling my son through the halls in a red wagon and visiting the well-stocked playrooms on each floor. I remember finding butterflies in the fountain/garden area and enjoying some serenity at the Sunday service at the chapel. I recall fondly sitting by the coy pond, painting things in the activity room, reading wonderful books in the library, and seeing the train set in the lobby. I cannot help but think our experience would have been harder if it wasn't for CHOA's focus on the whole patient.
Thank you CHOA and keep up the good work!
 Races will happen rain or shine. Due to the high volume of runners and the limited space on the greenway, no dogs, baby strollers, bikes, or skates. We welcome walkers at all our events.
REGISTER FOR THE TRYPTOPHAN RACE
Course Information
Races start and finish at the track at Fowler Park, 4110 Carolene Way, Cumming, GA 30040. The race course is on the Big Creek Greenway (Concrete / Boardwalk Greenway), Forsyth County, Georgia. The Big Creek Greenway is a 12 foot wide concrete and boardwalk path winding through the woods along Big Creek.
Please note this race does have a participant cap of runners so register early.
5K Race Map
10K Race Map
Half Marathon Race Map
Packet Pickup
Packet pick-up will be on Tuesday, 11/20 and  Wednesday, 11/21 11am to 7pm at Totally Running, 405 Peachtree Parkway, Cumming, GA 30041. Packet pick up will also be available race day starting at 6:30 am at Fowler Park. No identification necessary to pick up packets. You can pick up packets for friends and family.
Awards & Finish Line
Awards will be presented to: Overall Male/Female – 1st, 2nd, 3rd
Age Group categories (10 & under through 65+ in 5 year increments).
Since Thanksgiving is all about family and friends we will award the group that shows the most "SPIRIT"!! 
Race Results
 2018
Tryptophan Road Race Half Marathon: Overall / Age Group
Tryptophan Road Race 10K: Overall / Age Group
Tryptophan Road Race 5K: Overall / Age Group
Race Photographs  
2017
Tryptophan Road Race Half Marathon: Overall | Age Group
Tryptophan Road Race 10k: Overall | Age Group
Tryptophan Road Race 5k: Overall | Age Group
2016
Tryptophan Road Race Half Marathon: Overall | Age Group
Tryptophan Road Race 10k: Overall | Age Group
Tryptophan Road Race 5k: Overall | Age Group
2015
Tryptophan Road Race Half Marathon: Overall | Age Group
Tryptophan Road Race 10k: Overall | Age Group
Tryptophan Road Race 5k: Overall | Age Group
2014
Tryptophan Road Race Half Marathon: Overall | Age Group
Tryptophan Road Race 10k: Overall | Age Group
Tryptophan Road Race 5k: Overall | Age Group
2013
Tryptophan Road Race Half Marathon: Overall | Age Group
Tryptophan Road Race 10k: Overall | Age Group
Tryptophan Road Race 5k: Overall | Age Group
Another Fun Race Organized by: